Policeman kills a policewoman in Rivers state (photos)
A policeman attached to the Rivers State Task Force team on Thursday killed by a policewoman while trying to enforce the movement restriction put in place by the state government to curb the spread of Coronavirus in the city.
According to reports, the female police officer was trying to stop members of the task force team from destroying goods and properties of some traders at Eneka town under Obio-Akpor Local Government Area of the state when the incident happened.
A source told SaharaReporters that the policewoman whose name could not be ascertained at the time of this report, was shot dead by a police sergeant around 5pm.
Confirming the report, Rivers State Police Public Relations Officer, DSP Omoni Nmadi, said, "Yes, it's confirmed. The police sergeant and two others have been arrested."
Leah Sharibu: I'm ready to accept Boko Haram in-law – mother, Rebecca
Rebecca Sharibu, mother of Leah, the Christian schoolgirl abducted by Boko Haram has said that she is ready to have any member of the Islamic terrorist group as a son-in-law if that will ensure the release of her daughter.
Leah has remained in Boko Haram enclave on account of her refusal to renounce her faith even after her fellow 109 abductees were released to their families a month later.
She was the only Christian among the 110 schoolgirls abducted by the Islamic State West African Province (ISWAP) from their school in Dapchi, Yobe State, on February 19, 2018.
Leah Sharibu turned 17 last Thursday, May 14, and marked her third birthday in captivity.
Rebecca further expressed disappointment with the President Muhammadu Buhari government's unending negotiation for her daughter's freedom, which she described as "a scam to satisfy themselves."
Rebecca said that, "All that matters now is the safe arrival of my precious Leah."
She said she is now ready to take even an outlaw for in-law, rather than lose her daughter, adding, "You may call him an outlaw, but to me, her husband will be my son. I will take and treat him as an in-law," as quoted by the Guardian.
Dad arrested for brutally beating his 3-year-old son for bedwetting (graphic photos)
A Ghanaian dad has been arrested by the police for battering his three-year-old son, Junior, for bedwetting and being stubborn.
26-year-old Ebenezer Nana Bonsu, disfigured the body of his son using a cane and a naked wire.
According to Ghanaian media, Ebenezer and his son's mum live apart. The boy lived with his mum until in April when she took him to spend time with his father and also celebrate his 3rd birthday.
The constant abuse the boy suffered in the hands of his father pushed a neighbor to alert his mother who came immediately to pick up her child. She and other neighbors were shocked to see what the man had done to the little boy
The man was arrested while the little boy was taken to the Manhyia Hospital in Kumasi where he is currently receiving treatment.
Ebenezer was arraigned before a Ghanaian court yesterday for assault and causing harm to a child. He said he was innocent and that his actions were only to discipline his son. His lawyer put forward a bail for his release because he had been in police custody since his actions against his son was reported to the police. This plea was objected to by the Prosecutor, Inspector Regina Oparebea Amoako, who stated that the suspect would be a threat to the mother and the victim.
The judge granted him bail and refused to remand him in custody due to the Coronavirus pandemic. His trial will commence on May 21st.
Family members of the abusive father say they will be taking him to the hospital for a mental examination. According to them, they recently noticed a strange behavioral change in him after he landed an employment opportunity and started interviews and presentations. They described him as a very academically bright quiet person who keeps to himself a lot.
See comments and reactions
Divine Wisdom
Trying to prevent the child from bedwetting was right, but the approach was too harsh and wrong for this little child……the best approach is to limit how you give the child water when it starts to get dark and continuously wake up the child to urinate through out the night…..there are things that a parent should not solve by beating but by wisdom and knowledge.
Obinna BigBoss
That can't be his biological child. Maybe it is his step child. But even at that, he should proceed to a Correction Centre for being inhuman.
Jacob Shy
Check well
He's not the biological father of that child….
How can someone do this to a Child….
This Child Abuse at its Peak…
Yunusa Abubakar
He needs to be reminded of his time in olden days, perhaps he did more than that. 3 years is still too young for such punishment, though we have kids younger than that who stopped bedwetting quite earlier but one can't compare kids even same siblings.
Mary Modesty
Some people are just been frustrated this lockdown oooo , how can you beat a 3 year old for bed wetting , while I have seen 10 doing the same comfortably
Idayat Saka
Frustrated father, Maybe he doesn't want to have a child in the first place. Marrying a good father for your kids is better than marrying a rich or handsome for yourself.
Ngozi Okoro
This covid 19 has caused a lot of frustration on people. How can a father flogged his three years old child like this because of bed wetting….I still doubt if he's the real father.
Nnebedum Chinemerem Francis
My Goodness . Is not really about getting married and making babies o. The mental health of a person should be one of your topmost consideration before ending up with them. So sad .
Nwachukwu Oluseyi
He should first be flogged 100 times with inflicted injuries before charging him to court for child abuse. Oloriburuku, Oloshi…
Ukamaka Oluebube
That means my mom would have killed me then because I stopped mine when I was 17
Mine was even terrible, this particular man is mad!
Ewelum Chiemezie
Some people are naturally wicked. Bedwetting is a normal thing for a child. If this animal can do this to his own biological child I wonder what he will do to other people children. God will punish you, foolish man.
Frances Ibeneme
Mumu man…it's not called bed wetting at that age…Na una no wear the poor pikin pampers…Most Toddlers still wear diapers at that age b4 potty training starts…wicked fool of a man…Most adults still bedwet on a low key sef, people don kill them finish??
Jerry Udie
He's a mad man… I'm certain when he was a kid he must have done even more worse. I bet his pee must have brought bedbugs as big an eagle. Battering the Lil angle is pointless instead buy him more dappers…
How My Aunt Sold My 1-Month-Old Son For N950,000 — 20 Year Old Orphan
According to a report by The Nation, a 20-year-old woman, Abiola Komolafe, has narrated how her one-month-old son was sold to a child trafficking syndicate by her aunt, shortly after she was delivered of the child in Onitsha, Anambra State.
Komolafe was paraded alongside 182 suspects by the Delta State Police Command in Asaba, for crimes ranging from terrorism, robbery, kidnap, murder, cultism and child trafficking.
The state police commissioner, Hafiz Inuwa said the child trafficking syndicate specialises in trafficking young pregnant girls and selling their babies.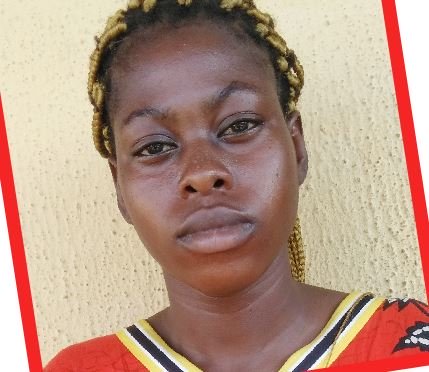 Inuwa disclosed that the gang was uncovered following a diligent investigation by his men.
According to the CP, the syndicate comprised three women who are assigned to trick young pregnant girls to Onitsha to deliver babies who are in turn sold, while the young mothers are deceived to believe their babies died during delivery.
Inuwa said: "In the course of investigation, Tolulope Bosede confessed that she tricked Abiola Komolafe from Akure to Onitsha, where she successfully gave birth to a baby boy. But she later took the baby from her and sold him to Mrs Nkaneme Melife,37, in Onitsha, while she lied to the mother that the baby died some hours after delivery."
"The buyer, Mrs Nkaneme Melife, also later sold the child to another buyer, Mrs Ekunno Ifeyinwa, 56, of Onora family house Abba village, Onitsha. Meanwhile, the two buyers have been arrested along with one Josephine Unnoha and the stolen child recovered."
The police boss added that the arrest of members of the syndicate led to the recovery of another two weeks old male child suspected to have been stolen by Mrs Ekunno Ifeyinwa.
Speaking with The Nation, Komolafe, said her ordeal started after she lost her parents and was forced to live with her aunt in Akure, Ondo State.
She explained that she trained as hair stylist and make up specialist after her secondary school education.
She said she became pregnant for her lover who bolted afterwards, leaving her in a quandary.
She said: "My aunt promised to take me to a woman in Onitsha, who would assist me by giving her a nanny's job and support my unborn child. I believed her because she was nice to me after I lost my parents, following which she accommodated me in her house in Akure.
"Shortly after I got to Onitsha, I gave birth at a hospital but I was told that my child died during delivery."
She said she was crestfallen due to the loss of her son, but never suspected any foul play.
She said on the way back to Akure, the driver of the commercial bus she boarded informed her that he overheard her aunt and another woman haggling the price of a baby boy, and inquired whether it was her baby that was referred to.
"As we were going back to Akure , the driver inquired if I had just given birth because she overheard my aunt and another woman haggling the price of a baby boy. I told the driver that I had just given birth but was told my baby died.
"I begged him (the driver) to drive into any police station for proper investigation on my missing child. As we drove into Asaba, Delta State, the driver pulled into a petrol station to buy fuel and raised the alarm that attracted police on guard duty at the filling station and the suspects were arrested."
She said her aunt does not wish her well and she does not feel any sense of betrayal by informing the police.
She expressed joy that her son had been recovered, and commended the police for acting with despatch to recover her son.
Komolafe's aunt, Mrs Tolulope Bosede pleaded for mercy. She blamed her action on the devil.
Meanwhile, Komolafe said she would stay back in Asaba to rearrange her life once again: "I will not go back to Akure. I will find a job in Asaba as a hair stylist and earn a living to fend for my son."